Restaurant kitchen equipment is usually built to handle a lot of traffic. For your food service business to run well, you'll need to have the right equipment. When restaurant equipment isn't kept up to date, it can break down unexpectedly, halting production. It's critical to get the most out of your commercial kitchen equipment investment, and the following pointers can help you do just that. 
Review your owner's manual
It's not uncommon for each piece of equipment to have its own set of care and handling instructions. It's advisable to familiarise yourself with the restaurant equipment by reading the owner's manual to learn how to operate and maintain it.
Repair Broken Parts
After years of service, parts and components deteriorate. It is critical to get a broken or loud component repaired by a competent technician as soon as possible. Keep your commercial kitchen equipment up and running for many years by staying on top of repairs and being proactive.
Cleaning and Sanitizing
Cleaning and sanitizing your equipment will help prevent food particles, filth, dust, and debris from accumulating, which can lead to equipment failure. The deterioration of filthy kitchen equipment occurs gradually over time. However, if you clean and sterilize equipment regularly, you can lessen the risk and extend the equipment's life. Stainless steel appliances should be cleaned with mild soapy water. If you're not sure how to clean and disinfect your appliance, consult the owner's manual or seek expert help.
Schedule Professional Planned Maintenance
Make an appointment with a skilled repair expert to have your cooking or refrigeration equipment serviced regularly. This helps not only with safety measures but also with ensuring that your kitchen equipment is performing at its best, eliminating unplanned business interruptions.
Maintenance for Common restaurant kitchen equipment
Restaurant kitchen equipment and appliances require regular maintenance. Maintaining and inspecting your refrigerator, freezer, cooler, fryers, ranges, griddles, and grills regularly might help you avoid breakdowns. Lost time = lost income in the foodservice industry. Here are some pointers for keeping common commercial kitchen equipment in good working order.
Refrigeration Equipment
Air filters – Air filters should be checked in all refrigerators, ice makers, and coolers. Airflow to the machine is limited as dust and grease accumulate, inhibiting effective ventilation. If you discover dirt in the filters, use a shop vac and the proper degreasing solutions to remove it as soon as feasible. This will also aid in energy efficiency.
Door Gaskets – Air leaks can be caused by cracks and tears in the door gaskets. Repair any cracks or tears, and make sure any gaskets or moving parts are clean. Grease and dirt can harm the gaskets, causing service disruptions.
Clean drain pans and tubes – For walk-in coolers, freezers, and refrigerators, maintaining the drain pans and tubes clean is critical. Refrigeration units gather waste such as slime and sludge, which can cause the unit to freeze. If these tubes are not cleaned regularly, they can break down, necessitating maintenance or, in the worst-case scenario, unit replacement.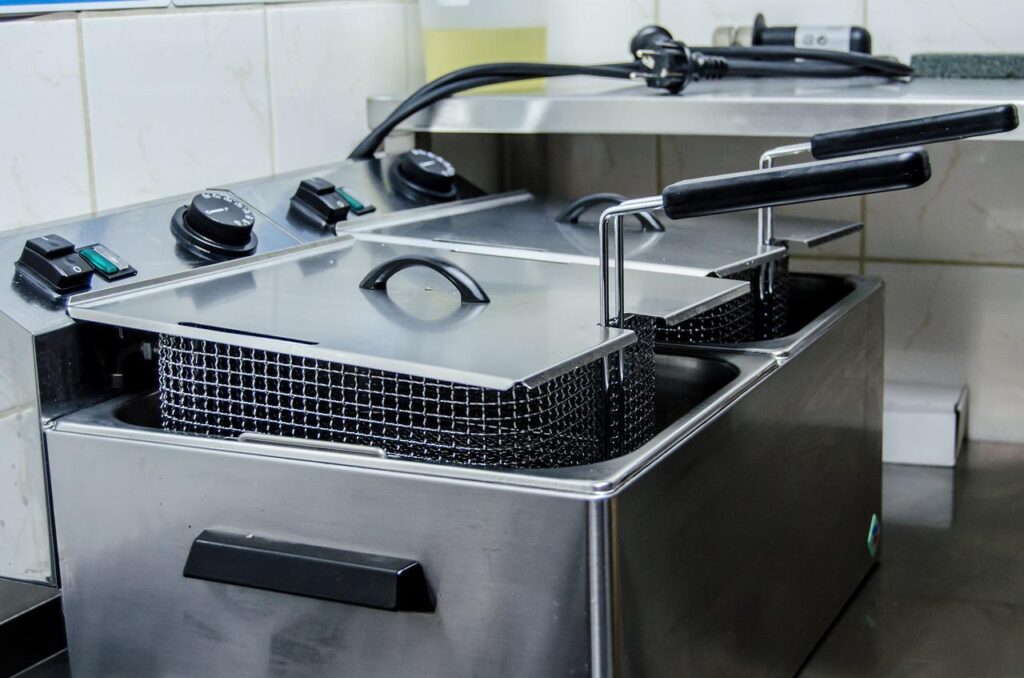 Fryers
Inspect for any gas leaks – Every four to six weeks, this should be done.
Clean combustion fans – Cleaning fans at least once a month is recommended.
Boil out the fryer – Weekly cleaning of the fryer can help prevent carbon deposits, fat buildup, and poor food quality.
Griddles, Grills, and Ranges
Clean grates, flattops, grease traps, and burners – After each use, each of the surfaces should be cleaned. Monthly, a more thorough cleaning, including drip trays and regions beneath these surfaces, may be required.
Check grease filters on exhaust units – Filters that are clogged with grease can clog up and restrict airflow. The filter may need to be replaced if there is any damage or excessive grease that cannot be cleaned.
Restaurant kitchen equipment that is well-maintained can assist prevent breakdowns and malfunctions. Contact Smart Care Equipment Solutions for routine maintenance and repairs if your food service operation is disrupted.