Ref: https://www.fcsi.org/foodservice-consultant/worldwide/innovation-smart-power-smart-kitchen/
Blog: Smart kitchens are kitchens designed to be sustainable, time-saving, and energy-efficient. They are a combination of electronics, design, and environmentally-friendly elements. Today a commercial kitchen set-up abides by all rules, a lot of restaurants are using Bluetooth temperature sensing to preserve a certain level of quality of their equipment and food. have evolved into 'smart kitchens'. This is silent transition has led to a monumental change in how commercial food set-ups function, whether it is the restaurant or a commercial kitchen set-up abides by all rules, a lot of restaurants are using Bluetooth temperature sensing to preserve a certain level of quality of their equipment and food.. This change came in due to a shift in consumer behavior. Today for commercial food businesses to stay relevant, they need to adopt technological innovation in their commercial set-ups, as the use of technology ensures consistency and efficiency. That day won't be long when food would be prepared by robots or automated systems in a commercial kitchen.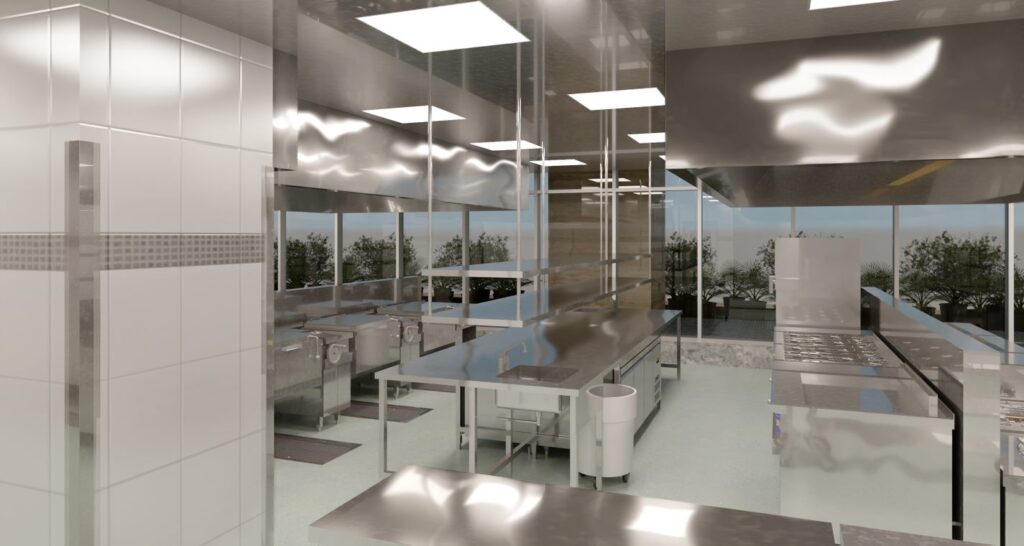 Here are the top reasons that are driving innovation in the commercial kitchen industry:
The need for being energy efficient
Cost-effectiveness when it comes to purchasing equipment
Adoption of cutting edge technology
Changing consumer behavior
The need for cloud computation and automation
Changing government policies
The rise in human labor cost
Why does innovation in a commercial kitchen matter now? 
Technological innovations in a commercial kitchen matter because it helps in:
Bettering a customer experience
Streamlining operations
Delivery of faster service of food
Maintaining food safety
Staying relevant when it comes to culinary trends
Helping in save kitchen space
Reducing energy use
Let's read about technological innovations that exist in commercial 'smart' kitchens today:
1) Food Safety Management System
A food safety management system helps a commercial kitchen in streamlining food safety regulation compliance and paperwork set by local government authorities. These systems range from software and smartphone applications to full-fledged connected networks of appliances that are programmed to automatically check for key food safety indicators.
Benefits:
Cloud technology eliminates paperwork
Improvement in health inspection results
Robust analytics and meticulous record-keeping that let local authorities know that the food prepared meets safety standards.
2) Internet of Things: A remote-controlled kitchen
Internet of Things (IoT) is a network of physical appliances and devices that use a digital connection to communicate with each other. IoT is implemented in a commercial kitchen set-up to create a smart, remotely controlled kitchen.
For example: In an Internet of Things commercial kitchen, a refrigerator could track and reorder inventory on behalf of the kitchen staff. kitchen.
Benefits:
Lowers labor costs due to automation
Smart appliances reduce human error and improve consumer experience by delivering consistency.
Remote monitoring is a possibility
3) Kitchen Display System
Kitchen Display System (KDS) is a necessary restaurant technology for any commercial kitchen. These systems help in improving communication between the front-end and the back-end teams.
Benefits:
Digital receipts of orders appear immediately on monitors/tablets installed in kitchens.
Helps in improving cooking time.
4) Smart Oven
There are two types of smart ovens:
1) Cook & Hold Oven
A cook-and-hold oven is the ultimate set-it-and-forget-it oven. This new technology in the restaurant industry can automatically lower itself to a holding temperature after cooking is complete so that the adjustment does not have to be made manually.
Benefits:
Reduced energy costs.
Optimized kitchen space.
2) Smart Combi Oven
A smart combi oven is a three-in-one oven that can cook using convected heat, steam, or a combination of both. It adds another layer of technology to the appliance by offering the ability for remote control and monitoring.
Benefits:
Saves money and takes up less kitchen space.
Increases food safety
Here are some interesting innovations that exist in restaurant technology:
1) Self-Ordering Tables
It is an AI-based restaurant-focused technology that allows consumers to browse through food options on the menu and help in the selection of their favorite dish without involving a human server.
2) Contactless Payments
The pandemic gave the extra boost to contactless payment. Now it has become a necessity. According to a survey, 34% of guests believe that mobile payment options are a crucial part of their dining experience.
This technology eliminates the need for physical contact between staff and guests, especially at these unprecedented times.
3) Bluetooth Temperature Sensors
To make sure a commercial kitchens set-up abides by all rules, a lot of restaurants are using Bluetooth temperature sensing to preserve a certain level of quality of their equipment and food. Restaurants can measure the temperature of their important assets, either manually or automatically, with the help of fixed probes and sensors.
4) Reordering with Facial Recognition
Restaurants are going a step further to establish a loyal customer base by using the technology of facial recognition. With this technology, a customer that has visited a restaurant and had a custom order can reorder their favorite because the restaurant kitchen would have the data through facial recognition that was scanned when the customer visited first. This technology is still in the trial stage.
The impact of technology on the restaurant industry is more than a tool for restaurants. Using technology in restaurants or the way you harness this tool will determine whether it works for your benefit or loss.
Interesting Fact: Did you know a Thai food chain by the name of Camile Thai Kitchen became the first in Europe to deliver its menu by drone earlier this year is planning to automate its kitchen operations with robotics in 2021.
Kilowa, a world leader in kitchen design, strategy, and management, making it an innovative consulting group that works on a 14-day deadline and delivers excellence at an affordable price.
Kilowa specializes in :
Setting up a Bar & Kitchen
Planning Commercial Laundry
It employs the best minds in the business who are multifaceted and equipped with delivering quality design and consulting in an exceptional turnaround time while using cutting-edge tech and methodologies. This consulting group's loyal clients include Columbia Asia Hospitals, Pizza Express, Ministry of Crab, etc.
The right team to guide any new food business when it comes to innovations in commercial kitchen design is Kilowa. Connect with a commercial kitchen consultant today.