There have always been some priority guidelines to be followed while building or restructuring a restaurant, the first and foremost being" safety". A customer friendly commercial kitchen has to be designed in such a way that it ensures a spacious attractive atmosphere, prime equipment that would automatically get optimum business keeping the safety of the staff. Therefore it is best to opt for a good kitchen consultant who could help you with maximum productivity as well as minimize possible mishaps. These basic guidelines on safety for designing a commercial kitchen would help you get started smoothly.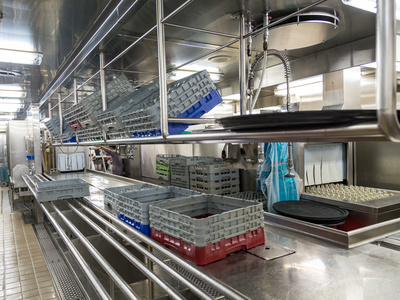 Know the Key Components
The best functioning of a commercial kitchen, be it a cafeteria or a restaurant, the five spaces named below should be made available for optimal functioning —
Cleaning Space
Service Space
Food Preparation Space
Storage Space
Cooking Space
Some Common Safety Concerns
While you design a commercial kitchen, be aware of the safety concerns there since it is a very busy area for the staff during business hours, lest there could be mishaps. The following need to be addressed when you design a kitchen.
Prevent Cuts
Wearing oven mitts should be made compulsary.
Staff should be instructed to stay aside when the steamer is being opened.
Select the right layout and equipment
Island Layout – The major cooking equipment is kept at the centre and the other stations along the edges of the kitchen.
Assembly Layout – In this layout, the cooking area is followed by the service area. The storage and cleaning areas are either at the back or the side of the service area.
Ventilation System
This system ensures the safety of the kitchen work area and the guests too. Do take the advice of a commercial kitchen design consultant to get a ventilation system done that will ensure a clean and safe workplace preventing grease settling on your expensive equipment.
Kitchen Equipment
Do not compromise with quality of kitchen equipment as they would be used extensively for a period of time.
Always choose premium quality equipment that have the right safety standards and guidelines for a commercial kitchen.
Conclusive Note
Commercial kitchens are prone to accidents, hence it is essential that that employer takes the responsibility to ensure safety of his staff as well as his guests. Some common norms to be followed are – full sleeves dress code for the staff to reduce burns, heavy pans to reduce spills. Since planning a commercial kitchen needs extensive experience, KILOWA could be your best partner for good layout and design with respect to the food service concepts.
KILOWA
Contact: +91-9313964538