Description:
An outdoor bar, also known as pub sheds, backyard bars or outdoor pubs are populating at a fast pace throughout the world. There are fun ways how you can have an outdoor bar that can be simple or elaborate as your budget would allow. Outdoor bar decor begins with bars made of repurposed objects and materials like pallets and barrels, and some are attached to the interior kitchen and are a narrow countertop connected via a window. A restaurant consultant should consider the location before opening an outdoor bar, since popular locations with outdoor bars gain majority of their profit in the summers, thus you should go for it. If you have the space and the budget, one can even want to invest in a roof for a bar area, so that your customers need not leave when it rains. Some useful tips for your outdoor bat:
~ In case of having an indoor section, the idea of an outdoor bar would work wonders as that will ensure that you are staying on brand throughout.
~ Invest in outdoor chairs, tables and umbrellas.
~ Include outdoor bar activities such as cornhole or washers.
~ Ice Bucket
~ Drinks on Tap
~ Beer Mirrors
~ Dart Board
Poolside Bar Design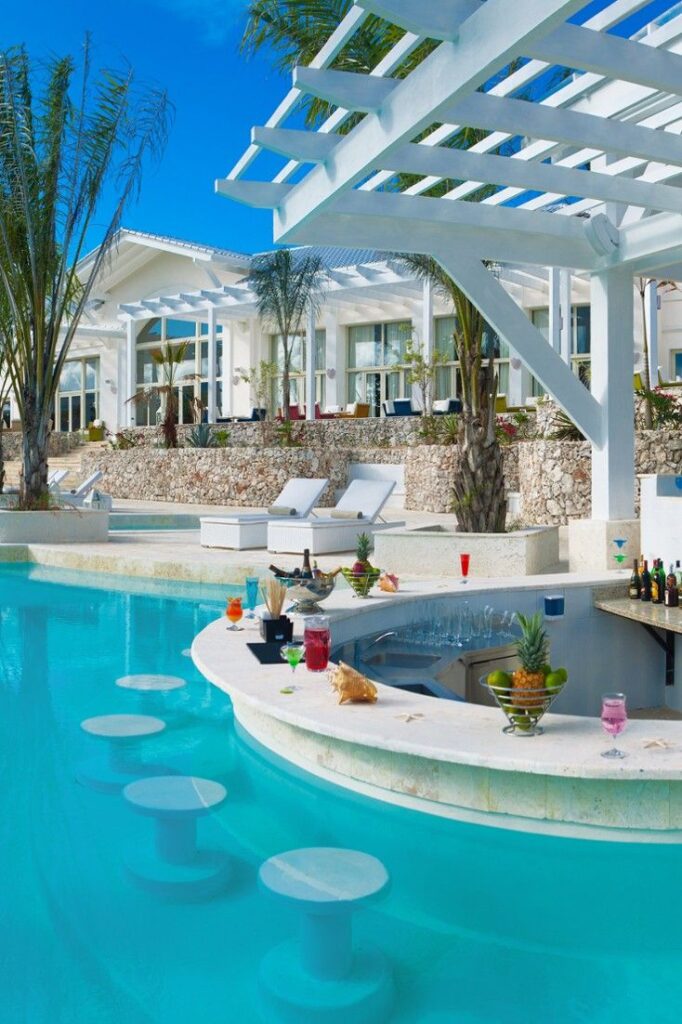 Hotels and Beaches usually host poolside bars, which may include swim-up bars too if the pool is for adults only. Swim-up bars allows guests to swim while sipping on their drinks. A restaurant consultant can also arrange for a bar beside the pool where guests could grab a drink. Some interesting tips for a poolside bar:
~ Bar furniture at a poolside bar should be water resistant.
~ Buy plastic barware and cups.
~ Offer tropical cocktails and non-alcoholic options for kids.
Create a bar decor that would be best for you and your customer base so that you can have a successful poolside bar.
Wooden Crate Bar on Wheels
A unique outdoor bar design with built-in shelves would be useful as well as look awesome. It could be used to hold glasses and bottles, or it can be turned around and used as a display piece for outdoor decor items. Your guests would love this cool idea of an outdoor bar on wheels.
Outdoor Bar Cart with Plant Stan
It is fun to display your favourite exotic plants on your bar cart, as the top of the cart would hold all the refreshments you would need for your guests and the bottom two shelves would display plants, flowers and other decorations. The drawers could be used to store bottle openers, beverage napkins and corks.
Airy and Expansive Outdoor Bar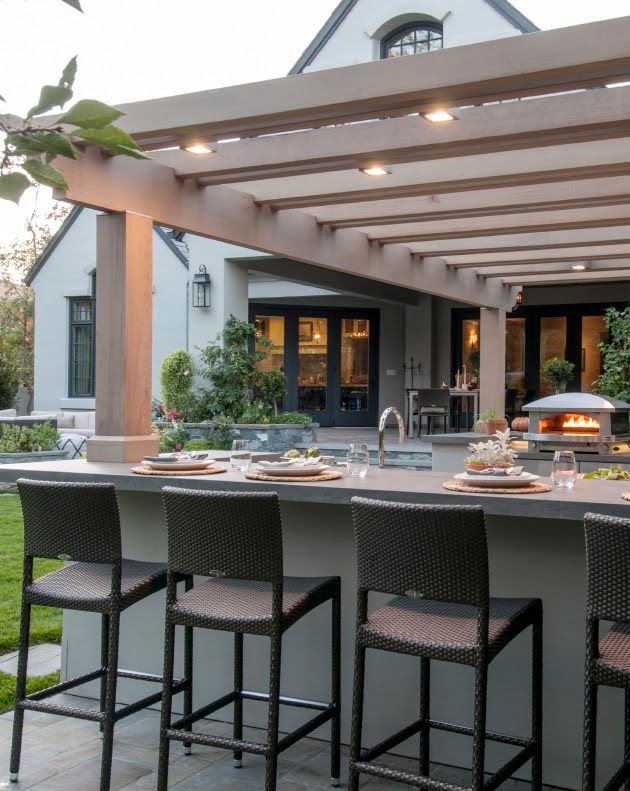 This expansive outdoor bar unit would feature an elaborate estate with a huge yard, an L-shaped bar that could actually accommodate plenty of friends and family to enjoy drinks and also nibble on some special recipes of the chef.
Outdoor Bar with a Pizza Oven
This amounts to a three-sided wooden pub in a backyard which features a stylish pizza oven. Pizzas can be assembled on the counter tops and decorated with fresh herbs snipped right from the garden.
Farmhouse Bar
A brilliant idea for an ideal outdoor bar would be one in a farm where one could see a donkey, cow, ponies and many other creatures that inhabit a farm. You could reuse old license plates and windows for the decor, and also some olf frames that could be lying around in the farm, and covered with some galvanized steel.
Mixed Stone Bar
You can design a handsome backyard bar made of stone featuring a bar-height counter that conceals a kitchen-height counter for the outdoor chef.
Some outdoor bar accessories would be a Bar Box Bartender Kit, Bartender Kit Cocktail Shaker Set with Stand, Wooden Brass Bar Name Sign which can be personalised, Electric Wine Bottle Opener (Automatic).
Keywords: Outdoor, bar decor.