Customer feedback has an essential role in shaping the overall structure of a restaurant business. The feedback of your customers helps in improving your restaurant business, which in turn enhances customer satisfaction and adds to their experience. An important aspect in the foodservice industry along with restaurant design is customer feedback, if collected and implemented appropriately, can impact the bottom line of a restaurant business positively. Customer feedback, when taken properly and considered upon, makes the customer feel valued.
Choosing the right measures to improve your restaurant based on the feedback and reviews of your customers helps you in building strong relationships and retaining customers. The creation of restaurant feedback forms strategically that customers actually want to fill is also an important part of the restaurant design. Here are a few tips for you that help in creating an insightful and user-friendly restaurant feedback form, that will fetch you more useful responses and feedback in improving your restaurant business.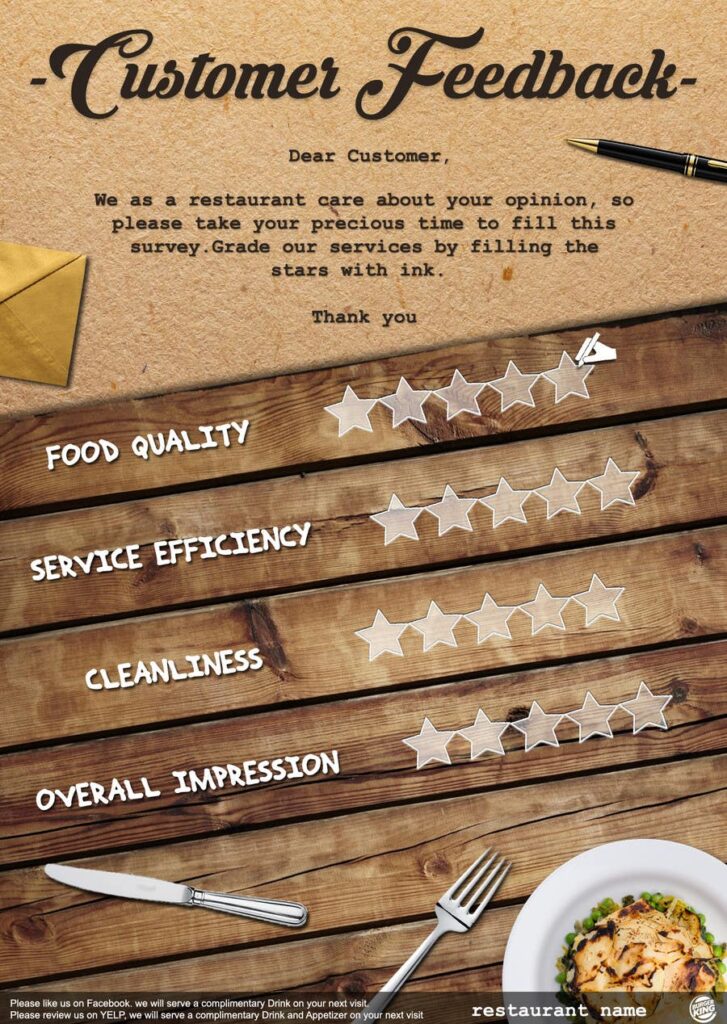 Keep It Precise: To understand your guest's experience better with your brand, make sure that the feedback is short, precise, and to the point. Set a limited number of questions that are relevant to your customers. Ask them about the overall experience, quality of food and service, cleanliness standards, and have extra free space for additional comments from them. If you have a rating scale to record the answers of your customers, ensure to keep the rating scale consistent for each question.
Don't Make The Questions Mandatory: It's up to customers to decide what they want to fill in. Digital feedback forms often don't allow submission until all the mandatory fields are filled. By making fields compulsory, you risk users abandoning the survey before they complete it. Make it easy for the users to provide feedback.
Make It Easy To Understand: Even though specific, contextual questions offer ease of convenience to the customers, ornamental language may put them off. Overuse of formal language and too much vagueness in the questions will make it difficult for users to understand and cause irritability. While framing the feedback form, keep the tone simple, use plain, easily understandable language, and avoid the use of jargon.
The Form should Appeal Visually: Your form shouldn't appear cluttered and messy so that people don't feel it to be time-consuming and difficult to fill. Follow an order so that you're asking about the interaction in the same flow as it has been experienced. Don't add random images or headings. Keep the message short, crisp, and add a caption button. The no-nonsense format would bring more responses and engagement from the users.
Amplify Social Feedback: Keeping aside digital or paper-based restaurant feedback forms, restaurateurs can include candid and responsive feedback on social media platforms like Facebook, Twitter, LinkedIn, and Instagram in the most creative way. Here are some of the best practices in the restaurant industry to follow while creating a restaurant feedback form:
Automate The Feedback Process: In the time of technological innovations, replace the traditional paper-based feedback forms with automated feedback apps to simplify the process for customers. Apps eliminate the redundancy that is otherwise observed in recording from the paper-based feedback forms.
Personalize The Feedback: Use personalized tags to address the customers, followed by the link to the feedback. Once when the customer fills the restaurant feedback form, regardless of the nature of the feedback, thank your customers. You can also offer a special reward for taking out their time for feedback, such as a discount coupon or free beverage or dessert on their next visit. Such incentives enhance customer engagement.
Make It Compatible: A digital feedback form must be compatible across various devices such as desktop and tablet devices. Using technology in your restaurant design is a necessity now.
Schedule A Timing: Customers tend to neglect feedback forms because of the lack of time. If dine-in restaurants, hand over the feedback form to the customers soon after they finish their meals and during the time their bill is being processed, and if takeaway or delivery orders, the feedback form should come before they make their next order or just in time before they forget about the order.
If you take your customer feedback seriously by taking careful measures to record their response, you can improvise your business and expand as per your future goals